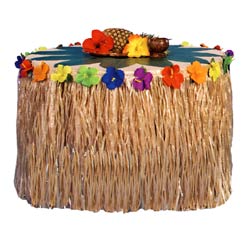 Grass Table Skirt
Our Grass Table Skirt is made of nylon with silk Hibiscus Flowers. These grass skirts are great for decorating the buffet table at a Luau or Hawaiian Party. At 108" long, the Grass Table Skirt is perfect for covering the front and part of the sides of a standard banquet table. The artificial nylon grass is durable and waterproof, making them great for the buffet table at your Luau Party.
Enter a larger quantity and save!
Nylon Grass Table Skirts are a great way to dress up the buffet tables at your next Luau or Hawaiian party. The nylon grass is durable and water proof keeping your buffet table looking great even when food and drinks are being spilled.